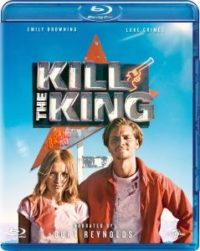 Universal Studios gaat Ashley's film 'Shangri-La Suite' uitbrengen op DVD en Bluray onder de naam 'Kill The King' in Groot-Britanië. De film verschijn op 14 november en is al te bestellen via Amazon. Het is nog niet bekend of er ook extra op discs staan.
Vooralsnog zijn er geen plannen om de film in Nederland of België uit te brengen, je kan de film wel bestellen omdat de Britse DVD en Blu-Ray regio's bij ons het zelfde zijn – er zal hoogstwaarschijnlijk geen Nederlandse ondertiteling op staan.
The UK branch of Universal Studios will release on Blu-ray dierctor Eddie O'Keefe's film Kill the King a.k.a. Shangri-La Suite (2015), starring Emily Browning, Luke Grimes, Ashley Greene, Avan Jogia, Ron Livingston, and Reiley McClendon. The release will be available for purchase on November 14.

There are no special features listed on the current announcement.

Synopsis: Emily Browning and Luke Grimes star in this crime drama co-written and directed by Eddie O'Keefe. The film follows Karen Bird (Browning) and Jack Blueblood (Grimes), two young lovers who escape a mental institution to travel to Los Angeles in a bid to kill Elvis Presley (Ron Livingston). After coming up with the scheme following a vision from Jack's dead mother, the pair set off on their journey in the summer of 1974, vowing to murder their idol and anyone else who gets in the way. The cast also includes Ashley Greene and Avan Jogia.